Upcoming Events:
____________________________________________________________
Look at how The Jake Cavanaugh Foundation has no boundaries.
They are also helping kids in Iowa.

Come join us for The Perry Bluejay Wrestling 3rd Annual Wrestle For A Cause 2020.
Wrestle for Roger, Thursday January 23, 2020 at 5:30pm at Perry High School, Perry IA.
If you can't make the event, you can still support by purchasing a "Shirt with a Purpose"
http://www.teamcloset.com/bluejaywrestling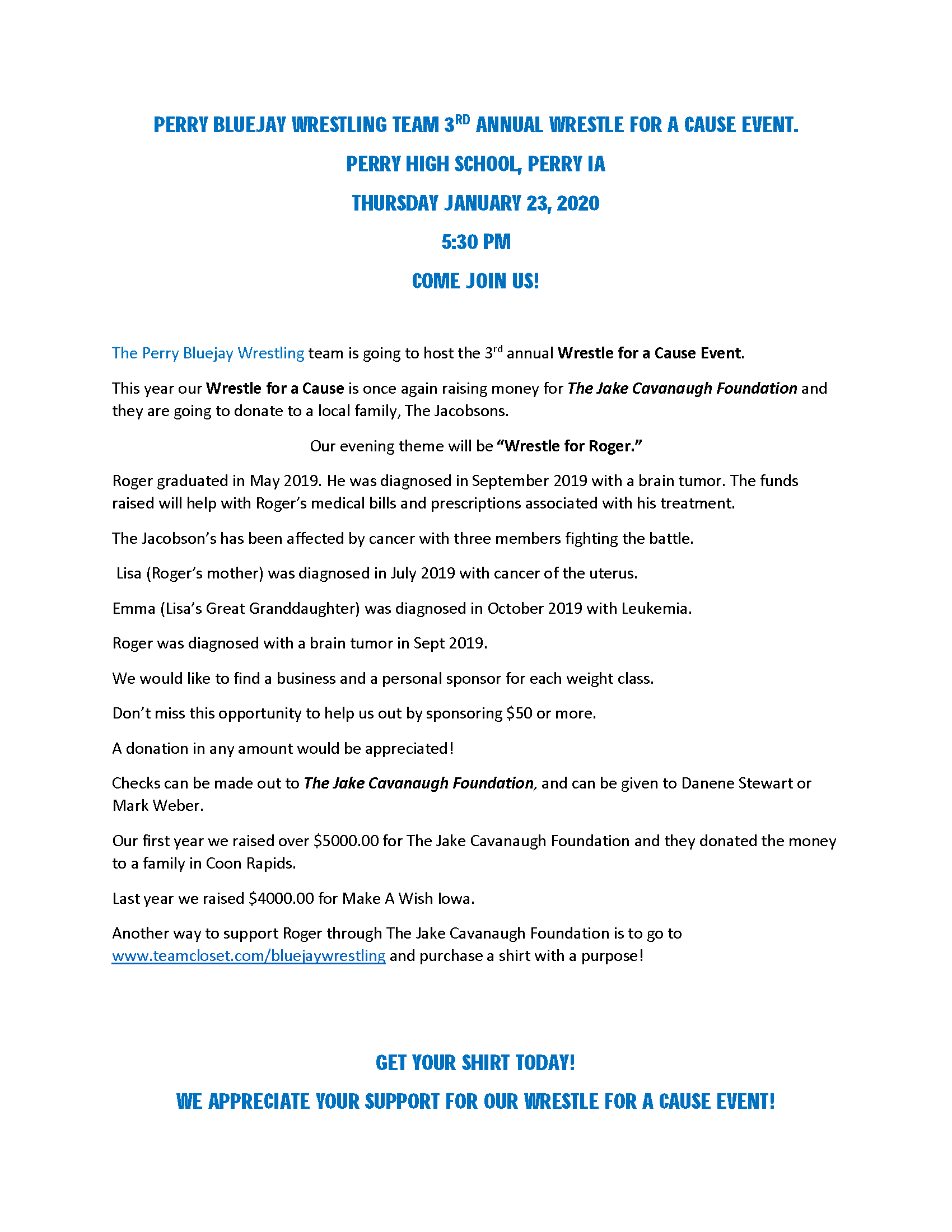 Past Events:
Jake Cavanaugh St. Patrick's Day Celebration 2013
Jake's St. Patrick's Day Celebration exceeded our expectations again this year.  The proceeds from this year's event will help pay expenses for Bailey, Jonas and Issie's families. 
We had some additional entertainment this year which really added to the party.  Dennis Lowe – Traditional Irish Music & live music by RJ Walker.  They were both awesome.  Carly Fournier sang "Hallelujah" - she was wonderful.  A big thanks to Strike a Pose Photo Booth for donating the booth for the event.  There were some very fun pictures taken that night.  Everyone always enjoys the Irish Step Dance Performance by the Driscoll School of Irish Dance.   Pat Graney with Graney Entertainment  and Dave Kraemer continue to do a great job of entertaining our guests.   
The Ancient Order of Hibernians of America surprised Curt, Ali and I with an emotional heart felt ceremony inducting Jake into the Hibernians.   This was a complete surprise and really touched our hearts!
A very special thanks to Special Events for decorating for the event each year.  Thanks to the Elk's for all they do to make the event run so smoothly. Thanks so much to the sponsors, those who donated auction items, those who purchased items and those who donated to The Jake Cavanaugh Foundation.  We could not do it without the countless volunteers who helped plan the party, set up, worked that evening, etc.   It is a lot of work and we feel very lucky to have such great friends and family who are willing to help.

To see more photos from the event, visit our Photo Gallery. Additional photos can also be found on the Jake Cavanaugh Foundation facebook page.
___________________________________________________________
Jake Can Sand Volleyball Tournament – held May, 28, 2012
Thanks everyone for coming out to play and support the Jake Can Sand Volleyball Tournament. A big thanks to Katie Dowden for organizing the event. She did an amazing job putting it all together. Everyone had fun, we were able to help a family with the proceeds, and we love for people to remember Jake.
To see photos from the event, visit our Photo Gallery.
___________________________________________________________
Blood Drive – held July 18th, 2012 @ St. John LaLanda Catholic Church
Thanks to those who came out to the 2nd Annual Summer Birthday Memorial Blood Drive in Memory of Jake.  It was a big success.  Community Blood Center does a wonderful job – thanks for allowing us to remember Jake while saving lives.  It will be held again next year in July.